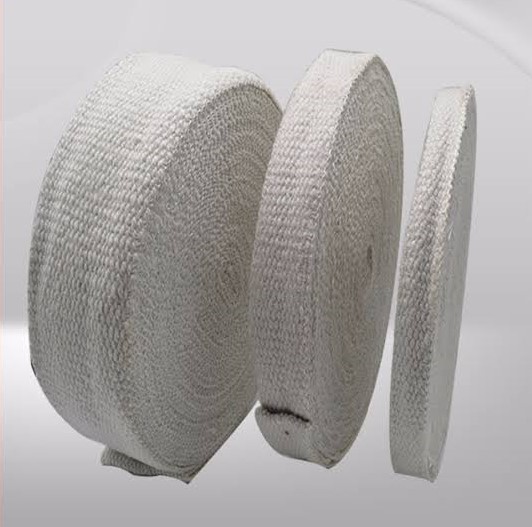 Ceramic Fiber Tape is a narrow woven fabric manufactured from high temperature alumino-silicate based ceramic fiber reinforced with high temperature fiberglass. The product is white and odorless, suitable for high temperature applications up to 1260°C.
Characteristics and Specs
Low thermal conductivity, low heat storage, high temperature stable, thermal shock resistant
Fire and flame proof
Chemical resistant, compatible with most corrosive chemicals, commonly used acid and alkali (exceptions are hydrofluoric, phosphoric acids and concentrated alkalies)
Lightweight, woven texture with excellent handling strength,
Asbestos Insulating Tape is interwoven from asbestos warp and weft yarns ,suitable for lagging for boilers and pipe lines ,also used as thermal insulating materials. Asbestos tape with metallic (copper wire ,inconel wire or stainless wire) are also available.
Refractoriness:480-550ºC                                                                                               
Spec:Thickness:1.5mm-3.0mm
Width:20mm-150mm
Kingsman Engineering Works is a large supplier of thermal insulation tapes for use as boiler gaskets, ovens, pipelines, kilns among other applications.  
Contact us Via 0733-52455 or 0720847049. Email: Info@kingsmanengineering.co.ke
.
Other Insulation Products